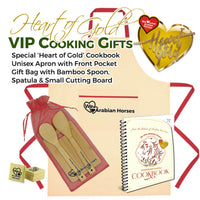 Heart of Gold Patrons
"HEART OF GOLD" PATRONS receive a special VIP cookbook along with two bamboo cooking utensils and cutting board, unisex apron with large pocket and six WLAH chocolates • Order while supplies last, supporting education and outreach!
ORDER HERE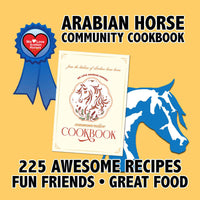 We Love Arabian Horses Community Cookbook
The We LOVE Arabian Horses Community Cookbook shares a very special collection of 225 recipes submitted by those who are passionate about their Arabian horses. You'll want this fun cookbook in your kitchen, and to share for gifts, clients & patrons!
ORDER HERE